Title: Are We All Lemmings and Snowflakes
Author:  Holly Bourne
Pages: 400 pages (Paperback)
P.O.V: 1st person
Genre: Mental Health, Young – Adult, Contemporary
Publication Date: 9 August 2018
Publisher: Usborne Publishing Ltd.
Welcome to Camp Reset, a summer camp with a difference. A place offering a shot at "normality" for Olive, a girl on the edge, and for the new friends she never expected to make – who each have their own reasons for being there. Luckily Olive has a plan to solve all their problems. But how do you fix the world when you can't fix yourself?
visit "Are We All Lemmings and Snowflakes?" in goodreads…
"Do you think I'm crazy?" I ask him, with only my face poking out.
He winces and grabs his white dressing gown off the floor, shrugging himself into it. "In order to think you're crazy, I'd have to understand what sanity actually meant."
Are We All Lemmings and Snowflakes? by Holly Bourne is a gripping contemporary YA novel dealing with the issue of mental health. It revolves around Olive and more people of her age who suffers from mental illness and their shot at 'normality' at Camp Reset.
The writing is hilarious and witty and Bourne, totally aces the incredibly touchy topic of mental health. The content is incredibly honest and never even for a moment gets pretentious or preachy. She seem to totally GET IT!
EACH character with their flawed actions, reactions and outbursts seemed absolutely real. Holly Bourne does not sugar coat the recovery process or makes it magical. She keeps it frank and that is what makes this book stand out to me. The character growth of not only Olive's but of the supporting characters like Lewis, Sophie, Hanna and Jamie was commendable.
Bourne, challenges the default concept of normality. And thinks out loud, how maybe it's not us but the world that needs to change. That maybe mental illness is an obvious reaction or an outcome to this insane maddening world! Maybe now, for once it needs to be kind and understanding stop putting labels on people. I specifically loved the message that you need to practice KINDNESS not only on other people but sometimes, the person you need to be most kind to is YOURSELF.
Despite of the heaviness this topic it was an easy read throughout.
Why not a 5 star?
It seemed to drag out a bit near to the end.
P.S. : Atticus is definitely over rated. LOL 😉
My Rating: 4/5
---
"Are We All Lemmings and Snowflakes?" is available in Paperback, and E-book.
Buy Links : Amazon(IN), Amazon(US), Amazon(UK), Bookdepository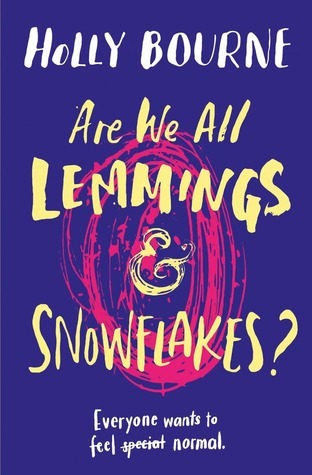 ---
Instagram | Goodreads | Twitter